It's getting to be back-to-school time. Some of you may have even already sent your kids off for their first day. This time always reminds me of new clothes, the smell of fresh paper in spiral notebooks and hope for a new year (will my social standing elevate above dorky horse lover???… Spoiler alert, it never did).
Anyway, because of my annual new school shopping binges on behalf of my parents and generous aunt, I also associate this time with doing a massive acquisition of new stuff. Buy all the things. Everything new.
It turns out as an adult, annual shopping binges (who am I kidding, quarterly binges) coupled with the constant financial drain of horse ownership does not bode well for one's finances. So instead, let me tell you how to spend your money on horsey must-haves and I'll just sit here and enjoy the millennial version of window shopping: scrolling through all the things I can't afford.
First up: stickers! Stickers for all! And they're cheap enough you can buy a set to never use. I know I'm not the only one who struggled with the desire to give my friend a unicorn sticker but also really didn't want to give it away. Stickers you say? As an adult? Hell yes. They make adult coloring books, why not adult stickers?
Here's how I like to use mine. 1. To identify my hatbox amongst the other 20 hatboxes at horse shows. 2. To identify my water bottle against the 20 others at horseshows. 3. On my tack trunk. 4. On my computer. I could keep going with this, the possibilities are endless. I don't recommend you add one to your husband's rifle case, though. He did not find it amusing.
Next up, brushes. How old are those brushes you're using? I feel like we just accept brushes as being dirty and worn out and we never replace them. My lack of replacing mine has to do with guilt around "If it's not broke, don't fix it." But what if I told you, you could buy beautiful, luxurious, custom marked brushes that made you look like the Town and Country equestrian of your dreams? I know the ranching gals are rolling their eyes right now, but just stay with me. Everyone likes beautiful things. So why not put your grooming supplies in the way of beauty with these little cuties?
I started out slow, stickers and brushes aren't really going to break the bank, but we're getting bigger. Ariat just came out with a tennis shoe line called Fuse. At first I was thinking, "What the hell Ariat?" Followed immediately by "THEY MUST BE MINE!"
I'm a sucker for teal. I'm also a sucker for animal print. So those teal leopard shoes? Need them! Plus Ariat are the only boots I ever wear, they are always incredibly comfortable and durable. Ignoring, of course, that one time Connor chewed a chunk out of the top of one of my boots. So I want to believe these tennis shoes would be comfy and good quality in addition to being adorable. Someone buy a pair and let me know how you like them . Or buy me a pair and I'll let you know how I like them. Anyone? No? No takers? A girl can try.
Speaking of Ariat, I'm a huge fan of their shirts. Whether you ride western, English, hunt seat, dressage, whatever, they have something for everyone. I'm obviously drawn more to the western items. I'm very thankful my discipline doesn't have my in skin-tight flesh-toned breeches. That is just not a flattering look for me. In addition to having a healthy backside that I'm happy not to put in breeches, I also have a pretty long torso (I'm 5'10") so finding shirts that are long enough can be a challenge. Ariat really comes through for me. Their shirts are long. Long enough to tuck in, sit on my horse, and still stay tucked in. So when you're doing a little back-to-school binge shopping (no judgement from me if you're not actually going to school or sending a kid back to school) you should definitely check out their shirts and pick up a few. Fun fact, the name Ariat is actually borrowed from the name SecretARIAT… get it? I see what they did there. Very clever.
One other shirt brand I'm currently obsessed with: Barn Fly Trading. Their creamy cotton shirts are so soft and light and are perfect for layering. They have funky stamped patterns and are also a little longer. Although not quite as long as Ariat, I leave my Barn Fly shirts untucked.
So I've got you covered for fun stickers, custom brushes, Ariat shoes and shirts as well as Barn Fly shirts. How bout a little western home décor before I wrap this up?
You might be familiar with Pendleton Woolen Mills as the makers of absolutely transcendent wool blankets. They started with Thomas Kay way back in 1889 in Oregon so obviously I have a little bias toward the company founded in my great state. Their wool blankets are still made in the state of Oregon today and I am fortunate enough to own a beautiful one.
Like any great business, the company has expanded their products into other areas of the home: mugs, bath towels, throw pillows, ottomans, chairs. Yes CHAIRS! And Rugs. I don't care what part of the country you live in or what your personal decorating style, you can always, always, incorporate a Pendleton blanket or rug into your décor. Modern to rustic, Pendleton is a classic. I think I'm going to go order something right now.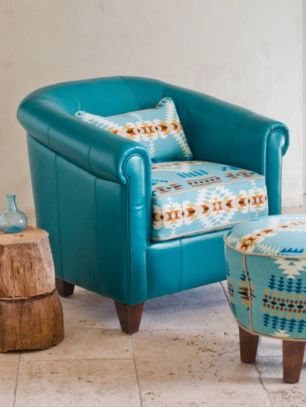 What are your horse-related must haves and binge-worthy items? Tell me so I can add them to my Christmas list. Or just go buy them for myself.
Follow me on Facebook so you never miss a post or deep thought. Shallow thoughts also available.